Main Content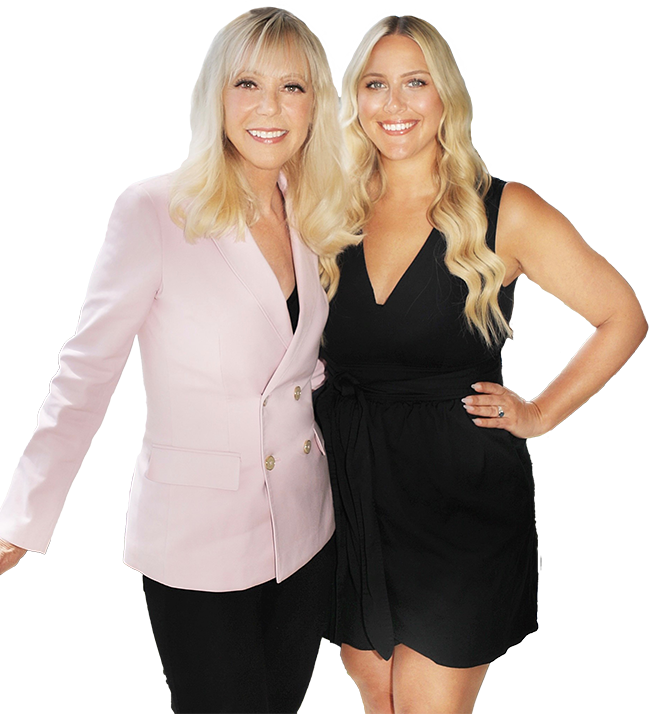 Meet
Shauna &

Leita Covington
Local Expertise, Unparalleled Service
Shauna and Leita Covington, a remarkable mother and daughter team from the picturesque coastal town of Laguna Beach, bring a touch of style and professionalism to the world of real estate. With a seamless blend of extensive experience, outstanding communication skills, and an unwavering dedication to delivering exceptional service, they embody the perfect balance of tradition and innovation. Their commitment to staying at the forefront of industry trends and technological advancements ensures that their clients receive the highest level of service, tailored to their unique needs and aspirations.
Shauna and Leita provide their valued clients with an unparalleled level of guidance and support throughout their real estate journey. Their extensive experience allows them to anticipate and overcome challenges, ensuring a smooth and successful transaction every step of the way.
Whether assisting luxury buyers in finding their dream home or helping high-end sellers maximize their investments, Shauna and Leita Covington are the epitome of professionalism and expertise. They are full-service real estate experts dedicated to providing their services to the array of exclusive clients found throughout Orange County.
Learn More +
Shauna Covington was named one of the leading real estate professionals in the entire country, placing among the top one-half of 1 percent of more than 1,100,000 Realtors nationwide.


Premiere Awards

Achievement
Top .05% NationwideChairman's Circle Diamond
Since 2003
#1 in Laguna Beach and
Orange County
Since 2003
Voted Orange
County's Favorite AgentL.A. Times Readers Choice
2020
20 YearLegend Award
2021
Top 25 Globally
AT BHHS 2021-2022
Top 10 in North America
AT BHHS 2018 | 2016-2014
Featured
Berkshire Hathaway Properties
Hear From Our Clients
My husband and I hired Shauna to sell our home and we could not have been more pleased. Shauna is nothing short of amazing and nothing short of the best. She brings vast experience and a great attitude to the table and she is so very pleasant to be around. Shauna was able to sell our home in this very tough market for the price we needed and she also found our next home for us and it is truly the perfect home for us! All because she listened to what our desires and requirements were and because she is a very determined person, she never gave up searching for that perfect home; it was out there waiting for us and Shauna found it!
Shauna Covington helped us in renting a perfect home for our family. She was extremely patient with the process and was not like some agents that were just about closing the deal. She was prompt to get appointments set and to view several homes before we found THE home for us. Her expertise, true professionalism and her warm friendly nature assures you your best interest is the utmost important. I've worked with many real estate "professionals" over the years and Shauna is like no other, a real class act! I would ONLY recommend my friends and family to work with Shauna Covington for all of their real estate needs!
Working with Shauna and her team has been a wonderful experience. The entire team were there to assist at every level. Shauna's strengths are marketing of the property through numerous written and electronic media, a strong network within the industry and excellent negotiation skills. Those strengths are the reason we didn't renew our listing agreement with the realtors we used prior to selecting Shauna....$$$$$ do not lie! Thanks to Shauna and her entire team on making this experience a pleasant one! Marty and Doug Tullio
My husband and I have known Shauna Covington for over 8 years. We officially met when we were purchasing a home in Laguna Niguel. Shauna represented the seller. We were impressed with her professionalism and her negotiating skills. Shauna has since represented us again, both as sellers and buyers. Again, my husband and I were treated with the utmost consideration. Shauna and her dedicated team worked tirelessly on our behalf to match a "good" buyer with our property and locate a new home for us. Shauna Covington is knowledgeable, honest, hardworking, creative, caring and has a great sense of humor. Shauna makes Real Estate fun! It is with great pleasure that my husband and I give Shauna Covington our highest recommendation!
If you are in need of a real estate agent in Laguna Beach, we highly recommend Shauna Covington. As residents of Florida, we had no idea who to choose to guide us in the search for our dream Laguna Beach property. We found Shauna, and she was the absolute perfect choice. Shauna is the ultimate professional, and there is no one in Laguna who has more knowledge of the properties in the area. She has the perfect combination of professionalism, warmth, and just the "sixth sense" of discerning exactly what we wanted. Her upbeat, down to earth, and positive personality made the search fun! Once you find your ideal home and are in the negotiating stage, this is where Shauna really shines - she will go to bat for you, big time. She has a friendly relationship with most of the agents in the area, and they respect and like her so much that, let's just say, she makes the deal work ;) We are so happy with our new home and with the expertise and service Shauna gave us.
We have had the opportunity to work with Shauna on several occasions for property purchasing, as well as renting. She is incredibly professional with a wealth of knowledge and experience. I consider her my "to-go-property-professional" and look forward to our working relationship in the future. Strongly recommend her.
We've worked with Shauna a number of times (both buying & renting) and we find her approach to locating great properties, to fit our tastes, to be exceptional. She is always easy to work with, and listens very well to understand our needs. We have recommended her to a number of friends, and associates, and they have all come back with rave reviews. Needless to say, we highly recommend Shauna's real estate services and expertise.
Shauna was the Most Professional Agent we have ever worked with! Always Respectful of our time and schedules when showing our home. Her recommendation to have our home staged with another Great Company helped sell our home. She not only got top dollar, but as it turns out our home broke the $$$ record in that neighborhood! We HIGHLY recommend Shauna! Dr & Mrs Gerald Kaban Col Gerald Kaban, Col US Air Force
Shauna just sold our property in Laguna Beach, CA and we had a wonderful experience throughout the whole process. She is highly reputable in the industry and that is precisely why we chose her. She is knowledgeable, a hard worker, and truly an expert in the industry. She sold our house quickly and at very solid price. Without a doubt my husband and I would recommend Shauna Covington. She is truly an exceptional agent.
Excellent agent. Sold our house in 48 hours full price. Shauna is all hands on and has an extensive network of clients. Will be using her for any further listings !
Get In Touch
Fill up The Form Below To Send A Message